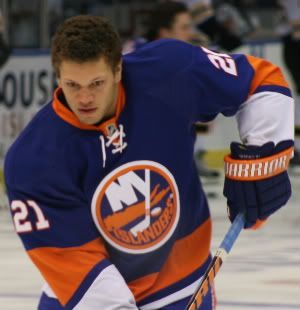 With all the hoop-la lately regarding what the Islanders will do with the number one pick this upcoming draft, it's easy to forget that they also have the 26th pick [edit] in the first round, courtesy of the trade that sent the under-achieving Mike Comrie and the unhappy Chris Campoli to the Senators.
Now, while Islanders general manager Garth Snow has kept mum on his intentions, I offer a few thoughts as to what the team should do with their picks.
Option One- Draft John Tavares and a talented blue liner. Many believe Tavares could be the player to build around, but he'll just be one piece to the puzzle that will get the Isles back into the playoffs. A guy like Calvin De Haan, who scored 63 points in 68 games with the Oshawa Generals this past season, may be a great choice. With Campoli gone, the Islanders could use more depth on the powerplay and De Haan has the talent to be that man. I don't know how you guys feel, but I miss the days when the Islanders had a bunch of talented defensemen who could score. Considering that, De Haan has the potential to help the Islanders offense quite a bit.
Swedish D-man David Rundblad is a little bit older and while he doesn't have the same offensive ability, he may be the better skater of the two and has more size, making him the Andy Sutton with a better shot of the future. However, he may be spending more time abroad before jumping to the NHL, making him a tougher guy to consider drafting.
Option Two- Draft John Tavares and a goaltender. Of course, now it's obvious what I think the Islanders should do with the first pick, but with the 29th, they may consider getting a young goaltender, just in case Rick DiPietro injures another hip. Wait, he's already injured both of them over the past two seasons.
If Edward Pasquale is available when the Islanders go for their second pick, they should consider picking him up. Winning 32 games in the OHL this season with a solid .911 save percentage this season, Pasquale could be ready to thrive in a few seasons just in case DP doesn't come close to finishing him record-breaking contract.
Oliver Roy is another quality goaltender the Islanders could look at. Winning 35 games in the QMJHL this season, Roy is a guy that may be able to play 40 games a season and take some of the pressure off DiPietro.
Photo by Patrick Hickey Jr.
Posted under Offseason 2009