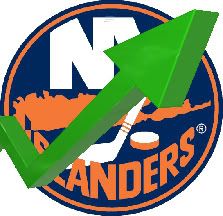 Kyle Okposo has 21 points in 28 games since the All-Star break.
Josh Bailey is having the best month of his professional hockey career with seven points, including four goals, in 13 games.
Frans Nielsen has 10 points in his last 13 games.
Before going down with an injury, Sean Bergenheim has seven goals and 11 points in his last 16 games.
Even Bruno Gervais is stepping up his offensive game as of late, scoring three goals and seven points in his last 16.
While these numbers are far from amazing, they are without a doubt better than what these kids were producing earlier in the season when Mark Streit, Richard Park, Bill Guerin Doug Weight and Trent Hunter were leading the team in both ends of the ice.
Now, it feels like this group of youngsters may in fact have what it takes to get the job done next season.
As far as Islanders general manager Garth Snow is concerned, this was what was supposed to happen all along.
"We came up with a plan to build through the draft, and we're sticking to it. This season has been painful, but we think we'll be better for it," Snow told the New York Post. "This is an important time for our organization to take the next step, and I take that very seriously."
With the draft coming up, the Islanders have a chance to bring in another youngster that can grow alongside the group the Islanders have put together.
That according to Snow, that is exactly what the fans want.
"Whenever (fans) come up to me, whether it's on the concourse during games or at practice, they say, 'Stick to the plan,'" Snow told Yahoo Sports. "The team we have next year will be very similar to the one we have now. I expect a lot of players to develop."
Hmm. Is that another way of saying that the Islanders won't waste money on washed up players or guys that haven't produced every where else? As far as I'm concerned, aside from the signings of Weight, Mark Streit and Richard Park, I've been pretty unimpressed with the free agents this team has brought in over the past three seasons.
Hopefully that trend will stop and the Isles will truly start the youth movement next season.
Posted under 2008-2009, Isles Thoughts 2009