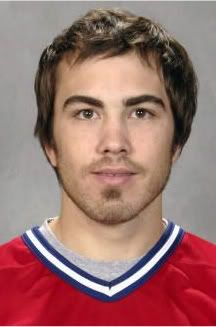 I've told you guys countless times in the three seasons that I've been writing this column that the New York Islanders are unlike any team in the NHL.
Regardless of if they are winning, losing or middling, there is always news, always things to think about and write about.
Despite being in last place, this team will have a serious goaltender controversy to think about this offseason. Everyone knows Rick DiPietro will be the number one, but coming off another injury-ravaged season, it's highly doubtful that he'll play the 70 games he wants to play.
My best guess is that DP will play about 50-55 next season and if all goes as well, then and only then will he be used in the Tim "Every Day" Cheveldae-esque role that he insists on playing.
However, will it be Danis or Joey MacDonald that is on the bench? Would one of them be willing to sign a two-way contract next season to provide support just in case DP gets injured again? Highly doubtful. Especially after both of them have proved they can be a solid backup if given a chance.
So what happens here? Who knows, but from what I've seen from Danis over the past few weeks and how much the coaching staff has embraced him, I think it makes this decision in the future an even tougher one.
"He's played like a No. 1 over the short term," coach Scott Gordon told the AP. "That's ultimately going to be a decision to be made after the season is over. Ricky's status will factor into it. All I can say is Yann has clearly shown his performance has been at a higher level than anything we've had all year. I'm happy for him."
Wow. Big words, but that's what comes with putting up the numbers that Danis has this season.
And who would have thought after his first two miserable outings? Not me, that's for sure.
But then again, this is what the New York Islanders are all about. A few months ago, everyone, including myself, weren't thrilled when Wade Dubielewicz got picked up by the Blue Jackets, because we didn't like what we saw from this Danis-guy with the French-accent. We all wanted our Yoda back, so he could swing his light saber. Instead, we got d'Artagnan, with his saber and funny looking mustache.
But hey, he's been great and it's given this writer something to of course, write about.
What more could you ask for?
A playoff appearance?
One day fellas, one day.
Posted under 2008-2009, Isles Thoughts 2009