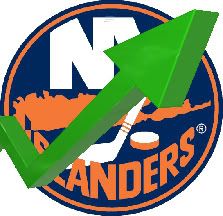 Goddamn it, I love being right.
Over the past few weeks, Islander fans have seen the transformation of Sean Bergenheim from gritty third liner to possibly a top six forward that can play in any game situation. It's been a process that many may still be in shock over, but like I've said countless times on this site, there is no reason why this kid can't be a 20-goal scorer in this league. He's got so much energy and has a much better shot and even better hands than most people give him credit for. It's only a matter of time until everyone in the league begins to see it.
It also makes his life much easier when the players around him are playing well. Yesterday, that was exactly the case as Josh Bailey and Jeff Tambellini played their best games in quite some time, while Andy Hilbert, Kyle Okposo and Blake Comeau were no bums either. Add in a strong defensive performance [Anyone see Zach Parise on the ice yesterday afternoon?] and a great first game with the Isles by Mike Iggulden [an old friend of mine and a die-hard Islander fan Anthony Natoli is extremely high on him and has been waiting all season for him to be called up. Just figured I'd throw that out there] and because of that, the Isles had a winning formula.
The first period in my estimation was perhaps the best 20 minutes the team has played all season. The forecheck was amazing, Joey MacDonald made all the saves he had to and the Islanders defense was rock solid. It was like someone finally turned a light on in this team's collective head and they played the way they were supposed to.
When the score was 5-2, I decided to go out and watch the rest of the game later. About 45 minutes later, I get a ring from Islanders Blog Box member and a damn good friend of mine Gary Harding, who tells me Trent Hunter is out for the season. Just when things start looking good for this team, they lose an emotional leader and a key player in Hunter. Well, it could have been worse; the Islanders could have been battling for a playoff spot and this happened. However, with nothing to lose, the best thing that could happen is for Hunter to heal up this offseason and come back healthy and lead this team next season.
For now, I'm just wondering if this means Jon Sim comes back or another youngster gets a shot.
Guess we'll just have to wait until 3 P.M., when the Isles take on the Coyotes at the Coliseum.
Posted under 2008-2009, Isles Thoughts 2009, Post Game Rants