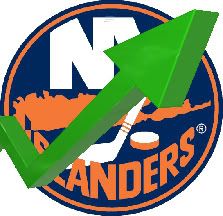 Anyone who had a problem with the way this team played tonight is either a Ranger fan or out of their mind.
The Islanders where skating hard and keeping themselves warm in the first and it absolutely showed. Every line had some type of pressure and chances to try and take advantage of and Yann Danis, while mostly untested, made the stops he had to. Dean "Why do I have an 'A' on my jersey already?" McAmmond's goal got the Islanders on the board. Even a few bad penalties couldn't kill the Islanders momentum in the period, as they maintained their intensity and forecheck throughout. Overall, the team, without Brendan Witt, Trent Hunter [Who, according to IslesBlogger.com, is injured, so you don't have to worry about him being on the block] and Bill Guerin proved they still have some gas left in their tanks.
Things changed pretty quickly though, after Ryan Smyth [insert preferred insult about # 94 here] scored just 33 seconds in on the powerplay to make it a 1-1 game. The Islanders only needed about two minutes to get the lead back though, after a Jesse Joensuu goal, his first as a pro in his first pro game [reminds me of Chris Campoli...tear]. Watching him through his first few shifts, I have to say, I like his game and think if he can continue to get in front of the net with his size [6'4], he may be up here the rest of the season.
Speaking of doing good things on the ice, Bruno Gervais is a modern day Dennis Vaske, doing most of the grunt work, but not getting anything as far as statistics to prove it. His goal [Which Jon Sim assisted on for his third point of the game] put the Isles up 3-1 and looked to put the Isles in the driver's seat. While the Islanders powerplay later in the period was absolutely atrocious and they got in penalty trouble, they were able to keep Colorado off the scoreboard and hold on to their two-goal lead going into the third.
However, just like the beginning of the second, Smyth scored to cut the lead to 3-2. Luckily, it was the Islanders who has a case of deja-vu themselves, as they struck right back and regained their two-goal lead after a Jeff Tambellini goal that was the result of some great work by Mark Streit, who carried the puck through all three zones. That seemed to be the final nail in the coffin and continuing their strong play in their own zone, the Islanders were able to fend off the Avs.
While Colorado is far from the team they used to be, a hard-nosed win like this, without some key players is just what the doctor ordered for this young team. However, a bigger question remains… how long can these guys keep it up?
Posted under 2008-2009, Post Game Rants