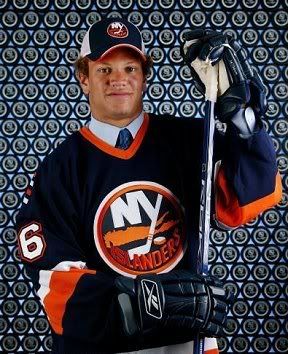 Well, the way this season has gone, the bright moments have been far and few between. In this post, I break down three things I'd like to see transpire by the the time the Islanders pack it up.
Kyle Okposo scoring 20 goals- It may not mean very much to the rest of the league, but considering how poorly he started the season, the fact that he hasn't had a consistent linemate for most of the year, the time he spent on the shelf in November and December and how bad the team has played this year, scoring 20 goals would be a huge achievement for him. While it still wouldn't be enough for him to nab the Calder trophy, it would be enough to help get fans thinking a bit more positive about the direction this team is moving in. It may also give some free agents the courage to sign and help get the Islanders out of the cellar next season.
Josh Bailey and Frans Neilsen getting to 35 points- Again, it's something that may not mean everything to the rest of the league, but if Josh Bailey and Frans Neilsen can find a way to score 35 points, which would mean they would both have to average close to a point a game over the last 23 games of the season, it would be huge. Is it asking for too much, especially on a team as offensively challenged as the Islanders? Perhaps, but again, much like Kyle Okposo, the improved play of Neilsen and Bailey would go an incredibly long way in helping to solidify the team's youth movement. For Neilsen, it would prove that he can be more than a solid defensive forward that can win faceoffs. For Bailey, it would go a long way in proving that the Islanders made the right move when they traded down in an incredibly deep draft to get him.
Mark Streit getting to 60 points- If Mark Streit can get to 60 points, it would prove that he is the real deal. That he can put up similar numbers on a much different team and be a leader on the ice. It will also show the rest of the league that free agents can come to the Island and enjoy some kind of success. But for Streit, it'll prove that he's much more than a gimmick player and one that any other team in the league will be glad to have. If he can find a way to get to 60 points, he'll have the type of confidence needed to continue to produce at a level of a top-flight offensive defenseman.
Posted under 2008-2009, Isles Thoughts 2009