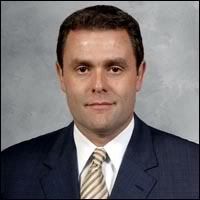 The Islanders haven't looked like a playoff team in quite some time this season, but Islanders head coach Scott Gordon isn't making any excuses.
Simply put, with all the injuries this team has had, you wouldn't blame the guy if he did.
Not having Rick DiPietro in the lineup for virtually the entire season alone gives him a get out of jail free card, but even in spite of that, Gordon hasn't made any excuses.
"Certainly, not having your No. 1 guy for the whole year has been a unique situation," Gordon told the AP. "It would be a unique situation for any team, but certainly, as a first-time head coach in the NHL, to not have your No. 1 guy and to have to rely so much on a guy that's done a great job at trying to make a name for himself as a proven NHL goaltender, it certainly has been a hurdle."
Aside from the play of Mark Streit, Joey MacDonald and Doug Weight, things like this make the season a little bit easier to deal with. Anyone who reads Chris Botta's rock-solid Point-Blank blog, knows that Islanders GM Garth Snow is sticking with Gordon for the long-term and regardless of what any of his players say about the team's new system, the Islanders are going to give Gordon every opportunity to make things work.
Botta also did a great job on his blog recently talking about the strides the Washington Capitals have made over the years to become the team that they have. Much like Botta, I feel the Isles may have to tank the next few seasons and bring in the right people little by little if they have any chance at turning this team into a legitimate and consistent playoff contender.
The only problem is asking Islander fans to wait isn't exactly an easy thing to do.
Being a fan of this team over the past 15 years has been like going to OTB and betting on a bad horse simply because you feel it's got what it takes and then seeing it break every bone in it's body and miraculously get up and do it over again the next race. Sure, there have been some moments where this horse finished, but after last season especially, it was obvious that the horse needed to be taken out to pasture. So now, while not having a completely new pony, the Islanders have a genetic misfit that hopefully can transform itself into something dependable and entertaining over the next few seasons.
If it doesn't, then Gordon won't need to make excuses, because he and Snow will be out of them.
Posted under 2008-2009, Isles Thoughts 2008