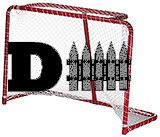 Through their first 21 games, the New York Islanders defense has had to deal with injuries to Chris Campoli, Brendan Witt, Andy Sutton, Radek Martinek and Freddy Meyer.
Wait, what did I just say? Am I to believe that through the first 21 games, the Isles have already had five defensemen on the shelf? Am I to believe that Mark Streit and Bruno Gervais have been the only healthy D-men on this team this season?
Unfortunately, the answer to all of those questions is a resounding yes.
Because of that, it's incredibly hard to assess what this team has done defensively so far this season.
However, it is pretty simple to see that this team is headed in the right direction in their own end.
Streit, simply put, has been a revelation in both ends this season, playing extremely well on special teams and eerily solid in his own end. After the Islanders picked him up this summer, the Canadian press had a field day, saying the Isles paid too much for his services, and stating that he was basically a fourth liner that had a penchant for contributing on the powerplay. I myself said that I didn't think he'd score 63 points again this season, but as of right now, he's looking to be awfully close.
[Isn't it funny how over the past few weeks, the Islanders alone have made the Canadian hockey media look like Jason Blair on truth serum?]
With Sutton, Martinek and Witt all back and healthy as well, I think the Islanders have their spine back. Now they can shutdown the top lines in the league and mix it up a bit if they have to. A few weeks ago, guys like Gervais, Streit and Campoli were playing 25 minutes a game, killing themselves in both ends. With the anchors back, those three can now play in roles more beneficial to them and because of that, I think we'll start to see some more production from them.
I come from a mindset as a fan where I'm used to seeing multiple defensemen being able to produce offensively on a team. Growing up, I saw guys like Tom Kurvers, Jeff Norton, Uwe Krupp, Mathieu Schnieder and Bryan Berard at the point scoring their 35 plus points a season. As a teenager, I saw Roman Hamrlik, Kenny Jonsson and Adrian Aucoin do the same thing. Because of that, I fully expect guys like Campoli, Streit and hopefully even Gervais and Martinek can produce offensively to be factors. I think it'll come a bit more naturally for he first two players I've mentioned, but I really feel Gervais and Martinek have a lot more to give in the offensive zone.
If they do and the Isles can continue to support Joey MacDonald, I think you'll see a very different Islanders team the rest of this season.
Posted under 2008-2009, Isles Thoughts 2008